| | | |
| --- | --- | --- |
| | Dispenser bottle nozzles | |
Dispenser bottle nozzles
2 pictures on this page - scroll down to see the rest
---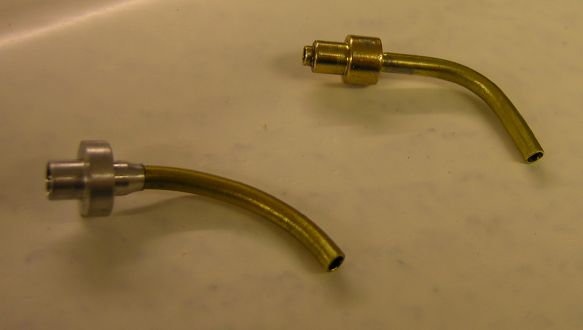 dispenser nozzles: 2008-01-15.
Nikon Coolpix 8400
These are the nozzles I made up to reduce the problem of drips from the dispenser bottles. The left-hand one was originally planned as the aluminium part only, before it occurred to me that an extended and bent nozzle would allow the flow to be cut off more cleanly by tilting the bottle. The reduction in outlet diameter was useful for the hardener and gave better control, but because the resin is considerably more viscous the one for it proved a bit small and had to be replaced later by one with a larger-diameter brass tube.
---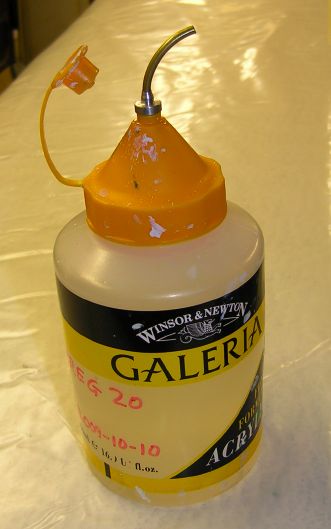 bottle with nozzle: 2008-01-15.
Nikon Coolpix 8400
Here's the resin dispenser bottle with its nozzle fitted. Initially I removed the nozzles and parked them on a little stand when not in use, but later got lazy and just left them on the bottles if expecting to be using them again within a day or two.
---
This page last updated 2013-10-16. I try to make this page as accessible as possible, by adhering to HTML 4 standards.
I welcome comments on this website. However, because of the amount of spam it attracts, I no longer post a direct e-mail address on any page. Instead, please click here to contact me. You will have to confirm that you are human before the message will be sent on to me.