| | | |
| --- | --- | --- |
| | Gel coat drips and runs | |
Drips on gel-coat
3 pictures on this page - scroll down to see the rest
---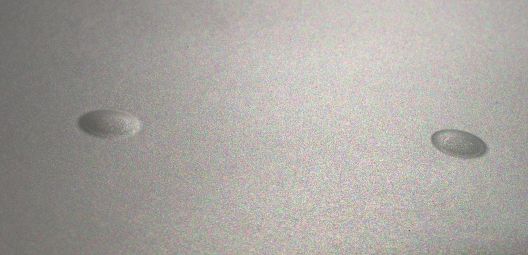 Drips on gel-coat: 2007-06-05.
Nikon Coolpix 8400.
Drips that landed on the otherwise quite smooth finish achieved by spraying the gel-coat. Droplets were forming on the downstream side of the atomiser tube of my very simple suction-tube spray-gun, and dripping off every so often, once they got to a critical size. Sometimes they missed the workpiece, sometimes they didn't.
---
Runs on gel-coat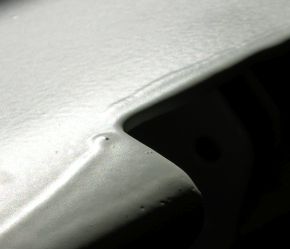 Runs on gel-coat: 2007-06-05.
Nikon Coolpix 8400.
The area around the rudder horn recess on the port side shows that some runs have occurred in the sprayed gel-coat. I'm not sure if this happened when the hinge vee or the port side was being sprayed. I suspect the former, as this area would have been less-well seen while spraying the hinge vee, and I could easily have laid it on too thick without noticing.
---
Drip on gel-coat filed flat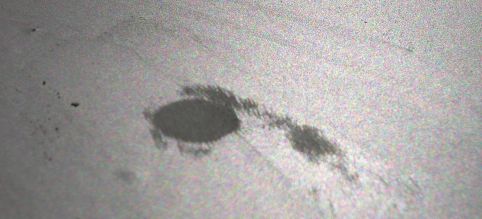 Drip on gel-coat filed flat: 2007-06-05.
Nikon Coolpix 8400.
Here's a close-up of what one of the drips looks like after some careful filing using a Sandvik 402 small abrader, 285 grit. The tool is small and well-shaped for tackling small protruding spots without damaging the surrounding area. Well, not too much - you can see I managed to make some scuffs outside the area of the former drip.
---
This page last updated 2013-10-16. I try to make this page as accessible as possible, by adhering to HTML 4 standards.
I welcome comments on this website. However, because of the amount of spam it attracts, I no longer post a direct e-mail address on any page. Instead, please click here to contact me. You will have to confirm that you are human before the message will be sent on to me.