| | | |
| --- | --- | --- |
| | 35mm film can spray gun | |
35mm film-can spraygun
3 pictures on this page - scroll down to see the rest
---
35mm film-can spraygun: 2005 05 05.
Canon AV-1, Fuji Superia 200.
The assembled syphon spraygun, using a cheap blow-gun to meter the air supply and a 35mm film canister as a throw-away paint cup. I make no claims for originality - this idea has been widely published, and several commercial versions are available in USA.
---
35mm film-can spraygun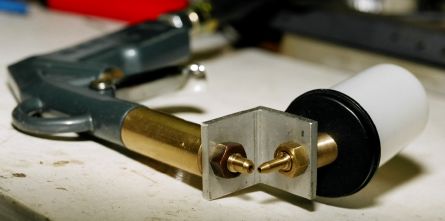 35mm film-can spraygun: 2005 05 05.
Canon AV-1, Fuji Superia 200.
The business end of the spraygun. I chose sizes for the air hole and paint syphon hole that I hope will give adequate performance with the fairly viscous gel-coat I'm using. See the drawing available at the link below for the dimensions of all parts. If replicating my work, be sure to measure the thread on the blow-gun before cutting metal! Mine was 1/4" BSP female and used an O-ring to seal the nozzle, but others may differ.
Below is a link to a copy of the drawing for the parts I machined, as a PDF file. Depending on how you have set your web browser preferences, clicking on the link below should either display the file for immediate reading, or download it to your own machine for reading at leisure. Some browsers allow this choice through a pop-up menu, accessed using click-and-hold, right-click, or control-click. If you don't already have the appropriate software for reading PDF files, you can download a free copy from the Adobe website.
Drawing of 35mm film-can spraygun (PDF) - you'll probably need to zoom in quite a bit to see all the detail clearly on-screen.
---
This page last updated 2013-10-16. I try to make this page as accessible as possible, by adhering to HTML 4 standards.
I welcome comments on this website. However, because of the amount of spam it attracts, I no longer post a direct e-mail address on any page. Instead, please click here to contact me. You will have to confirm that you are human before the message will be sent on to me.