| | | |
| --- | --- | --- |
| | Weekend Workshop | |
Euro-chock
4 pictures on this page - scroll down to see the rest
---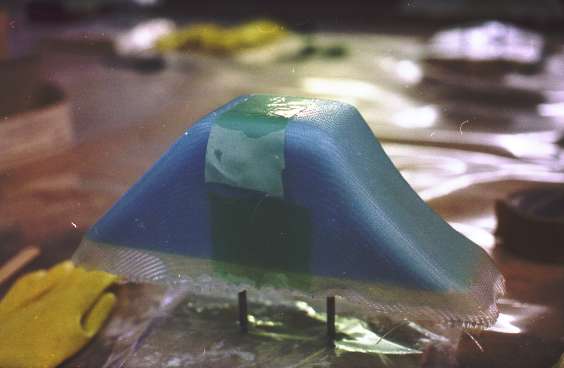 Layers of BID on Euro-chock: 1999 10 16.
Canon AV-1, Kodak Gold Ultra 400.
Building the Euro-chock exercises nearly all the skills required throughout the project. This shows one of the most satisfying aspects - how bi-directional glass cloth (BID) will drape to fit complex shapes, provided you cut it at 45 degrees to the weave. Here, 2 layers of BID, each just a single piece, cover and adhere smoothly to 5 faces of the chock, including the concave surface on the right. The greenish patches are peel-ply.
---
Weekend workshop participants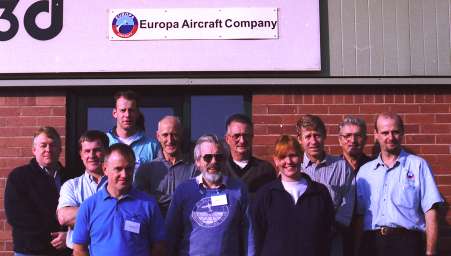 Students and teachers at Weekend Workshop: 1999 10 16.
Canon AV-1, Kodak Gold Ultra 400.
Keith Wilson and Neville Eyre at left, Andy Draper at right. I'm the one in the middle with the dark glasses, beside Toni. We're standing outside the unit which, when Weekend Workshops are not being run, is Neville's Ferret Works (like the Lockheed Skunk Works but more Yorkshire-style).
---
Weekend workshop lunch break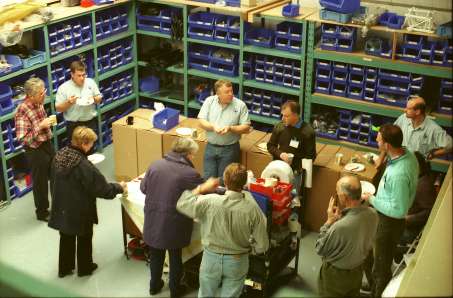 Tucking into lunch in the Europa stores: 1999 10 17.
Canon AV-1, Kodak Gold Ultra 400.
For our buffet lunches during the weekend, we moved away from the chemicals and dust in the Ferret Works to the stores, to eat surrounded by hundreds of drawers full of bits for Europas.
---
Tail kit packed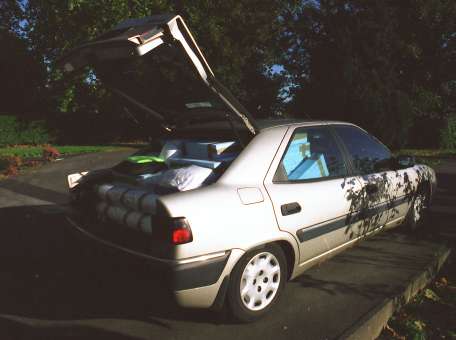 Tail kit packed into Xantia: 1999 10 18.
Canon AV-1, Kodak Gold Ultra 400.
We returned to the Europa factory on the Monday morning after the Weekend Workshop to load up. The tail kit fitted very snugly into our car, with very little room to spare. There was quite a lot of foam, as it included the ailerons and flaps as well as the rudder and horizontal tail surfaces. It was important to ensure that heavy items like the resin containers couldn't damage the lighter foam parts. We slid long and thin pieces into various odd places, but by the time all the aeroplane stuff was in, there was no room left for Wilma's weekend bag which had to go in the passenger footwell.
---
This page last updated 2013-10-16. I try to make this page as accessible as possible, by adhering to HTML 4 standards.
I welcome comments on this website. However, because of the amount of spam it attracts, I no longer post a direct e-mail address on any page. Instead, please click here to contact me. You will have to confirm that you are human before the message will be sent on to me.