| | | |
| --- | --- | --- |
| | Moving the shed | |
A very tight fit
4 pictures on this page - scroll down to see the rest
---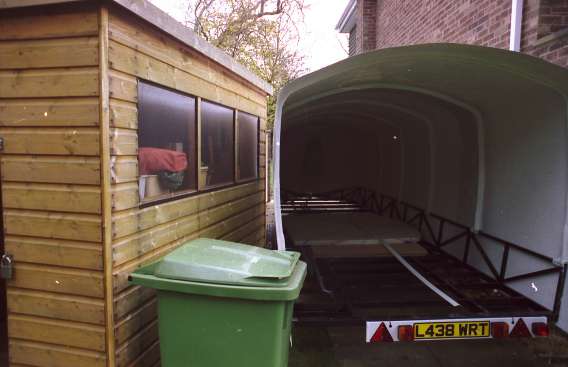 Trailer just fits beside shed: 1999 11.
Canon AV-1, Kodak Gold Ultra 400.
Well, it did fit into the space intended, but the time and care required to ensure it got in and out without damaging itself or anything else around was excessive. And, there was no room to get the wheelie-bin out past it!
---
Preparing the new location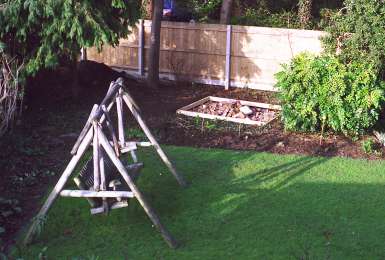 Filling the new shed base with hardcore: 2000 01.
Canon AV-1, Kodak Gold Ultra 400.
I'd done this once already in the original shed location. They say it gets easier the second time around, but I'm not so sure .....
---
Shed shifted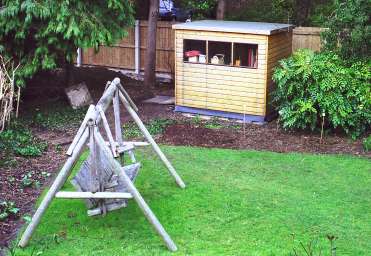 The shed in its new location: 2000 02.
Canon AV-1, Kodak Gold Ultra 400.
A couple of friends came round and we slid the shed across the lawn to its new position using scaffolding poles as rollers.
---
Room to breathe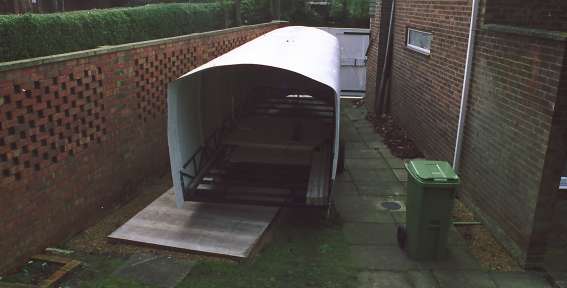 The trailer without the shed: 2000 02 21.
Canon AV-1, Kodak Gold Ultra 400.
Maneuvering the trailer was now much easier, and parking it aligned with the outer wall left plenty of room for pedestrian access alongside the house. The concrete base of the shed was almost level with the flagstones, but eventually it had to be broken up to allow new flagstones to be laid. Note that the trailer is not yet floored, and that the rear door/ramp is not fitted.
---
This page last updated 2013-10-16. I try to make this page as accessible as possible, by adhering to HTML 4 standards.
I welcome comments on this website. However, because of the amount of spam it attracts, I no longer post a direct e-mail address on any page. Instead, please click here to contact me. You will have to confirm that you are human before the message will be sent on to me.