| | | |
| --- | --- | --- |
| | Enlarged gate for trailer | |
Original gate
2 pictures on this page - scroll down to see the rest
---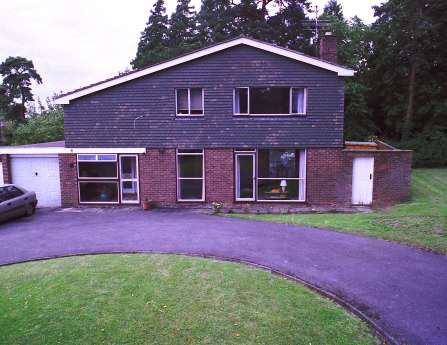 Original house front: 1998 07.
Canon AV-1, Kodak Gold 100.
This was how the front of the house appeared some time after we moved in. On the right, the grass in front of the small white gate shows evidence of the removal of several ornamental conifers as part of the anti-subsidence work. With those trees gone, the idea of widening the gate opening began to take shape.
---
New gate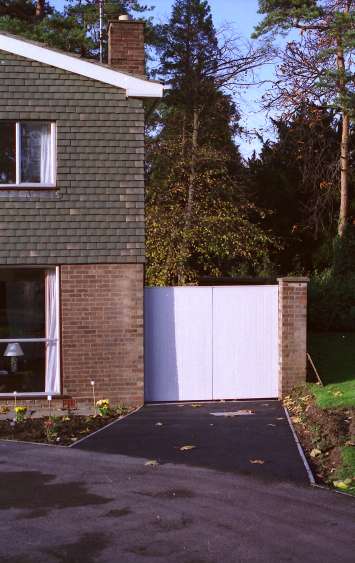 New gates and drive: 1998 11.
Canon AV-1, Kodak Gold 100.
Here's the fruition of the idea, with the drive laid and the new gates hung. To the left, the small triangle of lawn marooned by the new drive was converted by Wilma into a flower garden, which gives a very nice outlook from that down-to-the-floor living-room window. This was taken about a year before the arrival of the aeroplane trailer; in both this and the photo above, you can just see the top of the garden shed (about which more later) in the area beyond the gate.
---
This page last updated 2013-10-16. I try to make this page as accessible as possible, by adhering to HTML 4 standards.
I welcome comments on this website. However, because of the amount of spam it attracts, I no longer post a direct e-mail address on any page. Instead, please click here to contact me. You will have to confirm that you are human before the message will be sent on to me.