| | | |
| --- | --- | --- |
| | Drilling pushrod ends using vee-blocks | |
Drilling pushrod ends using vee-blocks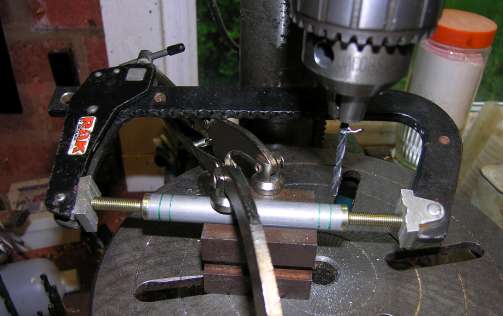 Drilling pushrod ends using vee-blocks: 2008-08-27
Nikon Coolpix 8400
A CS13 short aileron pushrod set up for drilling the ends. The black Rak clamp is to prevent the rod ends migrating outwards during drilling. The rear clamp holds the vee-block in position and maintains that in between drilling operations. The foreground clamp holds the tube in the vee-block. Obviously the drilling is done beyond the end of the vee-block so as not to damage it, but the drill bit needs to be aligned with the centre of the vee. The position of this vee-block was set by first lining up another one under the drill-bit, placing a length of tube in it and sliding this vee-block up against it to align with both tube and block, then clamping it in position.
---
This page last updated 2012-12-12. I try to make this page as accessible as possible, by adhering to HTML 4 standards.
I welcome comments on this website. However, because of the amount of spam it attracts, I no longer post a direct e-mail address on any page. Instead, please click here to contact me. You will have to confirm that you are human before the message will be sent on to me.