| | | |
| --- | --- | --- |
| | Gel-coat trial finish | |
Gel-coat trial finish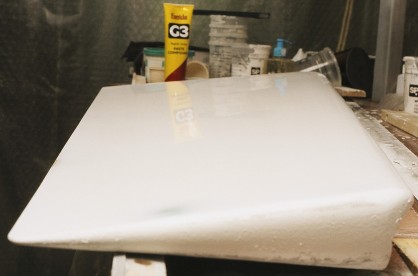 Gel-coat trial finish: 2004 05 27.
Canon AV-1, Fujicolor Superia Reala.
This gives some idea of the sort of finish that a novice can attain after only a moderate amount of work. Note the nice undistorted reflection of the items beyond the rudder such as the Farecla G3 tube. I've started to cut through the gel-coat at the tip end of the rudder (nearest the camera) where a bluish patch can be seen slightly left of centre. That will need a new coat. The curved part of the tip is still a bit hairy, and obviously a fair amount of work is still needed there.
---
This page last updated 2012-12-12. I try to make this page as accessible as possible, by adhering to HTML 4 standards.
I welcome comments on this website. However, because of the amount of spam it attracts, I no longer post a direct e-mail address on any page. Instead, please click here to contact me. You will have to confirm that you are human before the message will be sent on to me.