| | | |
| --- | --- | --- |
| | Rudder in jig for sanding | |
Rudder in jig for sanding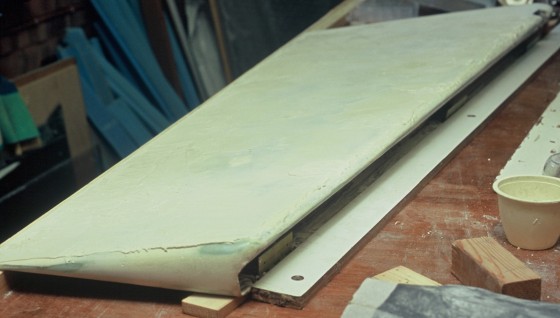 Rudder in jig for sanding: 2004 05 22.
Canon AV-1, Fujichrome Velvia 100F.
The rudder set port-side-up in the jig ready for sanding. The batten at the root end is invisible from this angle - its size and position were chosen to keep it below the upper surface and thus clear of the sanding block. The batten restraining the LE is slim so that it only contacts the hinge flange and won't foul the curved LE which protrudes forward of the hinge flange. Because the rudder is tapered, and its TE is parallel to the table on the rebated TE batten, a wedge is needed (bottom, left of centre) to support the LE at the tip.
---
This page last updated 2012-12-12. I try to make this page as accessible as possible, by adhering to HTML 4 standards.
I welcome comments on this website. However, because of the amount of spam it attracts, I no longer post a direct e-mail address on any page. Instead, please click here to contact me. You will have to confirm that you are human before the message will be sent on to me.