| | | |
| --- | --- | --- |
| | Lumps on wing top skin | |
Lumps on wing top skin
2 pictures on this page - scroll down to see the rest
---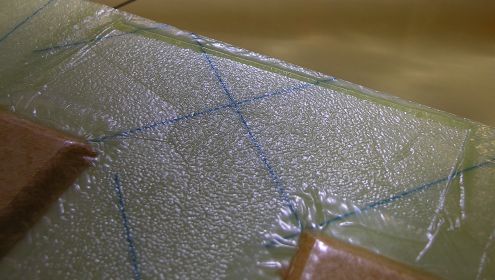 Resin nibs on wing skin: 2007-09-26.
Nikon Coolpix 8400
The raised line along the edge of the starboard wing skin and extending back towards the brown foam in the area of the inner horn box. It appears that there was a T-shaped piece put in the horn-box recess during vacuum-bagging and that the resin displaced by it collected in a line at its outer edge.
---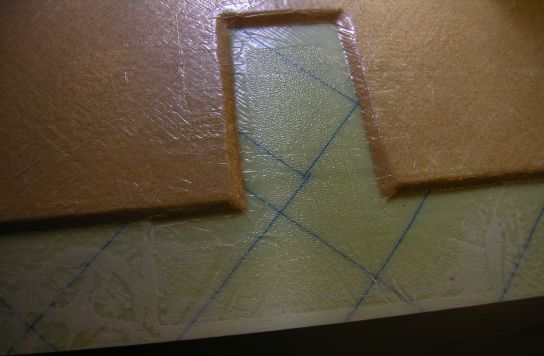 Resin nibs on wing skin rubbed down: 2007-09-26.
Nikon Coolpix 8400
The underside of the starboard upper wing skin after filing off the resin lines in the area of the outboard horn box recess. Note that the tracer lines in the glass pre-preg are unbroken under the patches that have been rubbed down. The circular artifact at bottom left, also rubbed down, may have been left by the vacuum connection.
---
This page last updated 2013-10-16. I try to make this page as accessible as possible, by adhering to HTML 4 standards.
I welcome comments on this website. However, because of the amount of spam it attracts, I no longer post a direct e-mail address on any page. Instead, please click here to contact me. You will have to confirm that you are human before the message will be sent on to me.