| | | |
| --- | --- | --- |
| | Redux test piece | |
Redux test piece
2 pictures on this page - scroll down to see the rest
---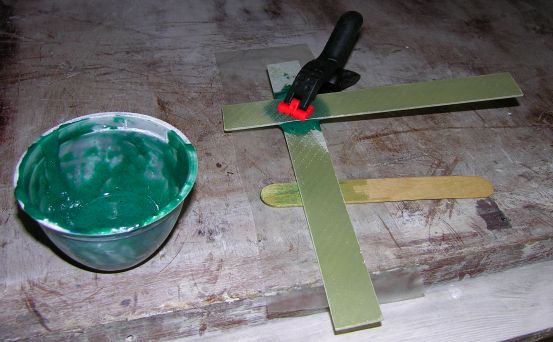 Making Redux test piece: 2007-09-24.
Nikon Coolpix 8400
The yellow pasty component of the Redux (aka Araldite 420, aka ZK 420) already opened and part-used was quite stiff and lumpy. It took a bit of stirring after adding the blue hardener liquid to get a reasonably smooth mixture. The test joint is between 2 offcut pieces of 6-ply BID layup (well-scuffed beforehand), held together with a spring clamp while curing.
---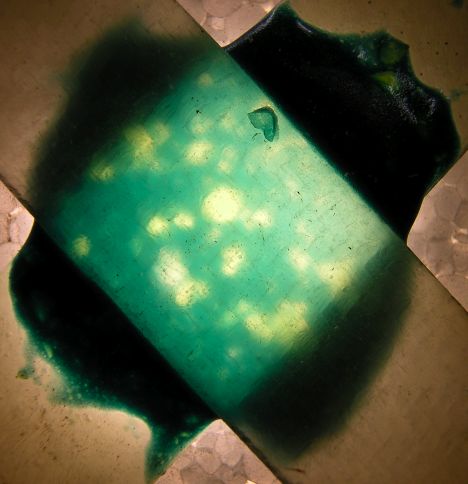 Inclusions in Redux test piece: 2007-09-27.
Nikon Coolpix 8400
I noticed when I removed the spring clamp after several days of curing that the 2 BID strips were not quite parallel to each other. The joint was slightly wedge-shaped, as though there was something within the Redux preventing full contact between the BID strips. Holding it up to the light revealed some pale inclusions within the joint, which must be some of the yellow pasty component that didn't get fully mixed.
---
This page last updated 2013-10-16. I try to make this page as accessible as possible, by adhering to HTML 4 standards.
I welcome comments on this website. However, because of the amount of spam it attracts, I no longer post a direct e-mail address on any page. Instead, please click here to contact me. You will have to confirm that you are human before the message will be sent on to me.