| | | |
| --- | --- | --- |
| | Flap hinge clamp | |
Flap hinge clamp
2 pictures on this page - scroll down to see the rest
---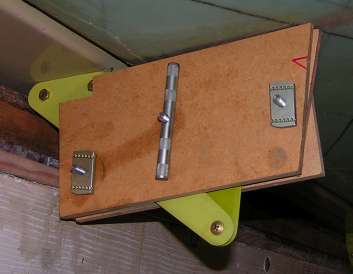 Flap clamp: 2007-11-26.
Nikon Coolpix 8400
A clamp made to hold the flap in the retracted position while working on fitting the wing top skin. It's a sandwich of 3 layers of 9mm MDF, held together by M6 screws with large nuts that happened to be handy.
---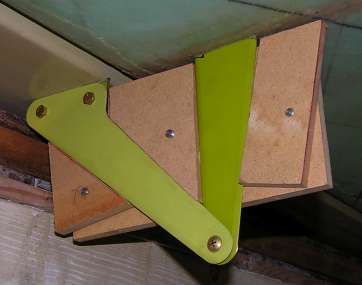 Flap clamp internals: 2007-11-26.
Nikon Coolpix 8400
This is the middle layer of the MDF sandwich. The 3 pieces were cut to fit around the flap hinge parts as closely as possible in the retracted position.
---
This page last updated 2013-10-16. I try to make this page as accessible as possible, by adhering to HTML 4 standards.
I welcome comments on this website. However, because of the amount of spam it attracts, I no longer post a direct e-mail address on any page. Instead, please click here to contact me. You will have to confirm that you are human before the message will be sent on to me.