| | | |
| --- | --- | --- |
| | Holder for thinning FL11 | |
Holder for thinning FL11
2 pictures on this page - scroll down to see the rest
---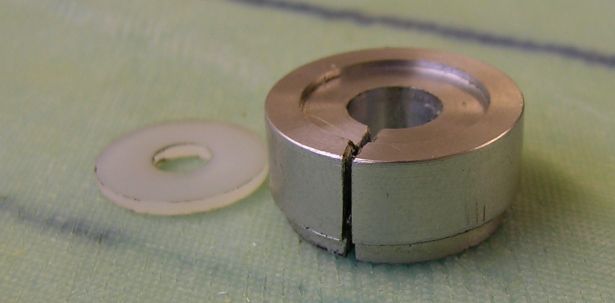 Holding device for outrigger mod washer: 2008-02-29
Nikon Coolpix 8400
The outrigger mod needs plastic washers somewhat thinner than the FL11 available from Europa. This is the device I made to hold a FL11 in the lathe chuck and allow it to be faced off to about half its original thickness. It's just a piece of aluminium bar with a large hole drilled through and a shallow recess bored in the face, sized to be a good fit on the FL11. A hacksaw cut through the periphery allows it to close slightly when gripped in the chuck and so hold the FL11 firmly. The reduction in diameter at the back of the holder is not significant, it was already there on the offcut of bar stock that I used to make the holder. An un-modified FL11 is also shown.
---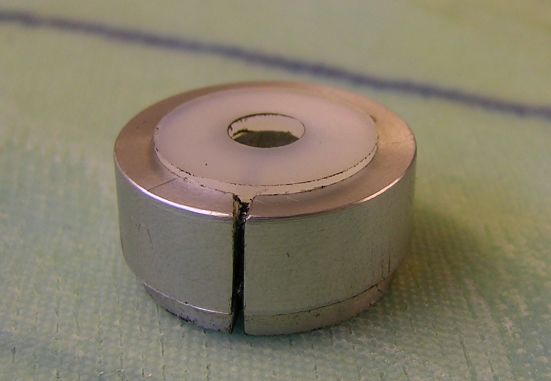 Holding device for outrigger mod washer: 2008-02-29
Nikon Coolpix 8400
Here's a stock-issue FL11 placed in the holding device. Just over half its thickness protrudes, allowing the face to be skimmed down until it's the correct thickness for the outrigger mod.
---
This page last updated 2013-10-16. I try to make this page as accessible as possible, by adhering to HTML 4 standards.
I welcome comments on this website. However, because of the amount of spam it attracts, I no longer post a direct e-mail address on any page. Instead, please click here to contact me. You will have to confirm that you are human before the message will be sent on to me.