| | | |
| --- | --- | --- |
| | Making wooden handle for brake lever | |
Making wooden handle for brake lever
5 pictures on this page - scroll down to see the rest
---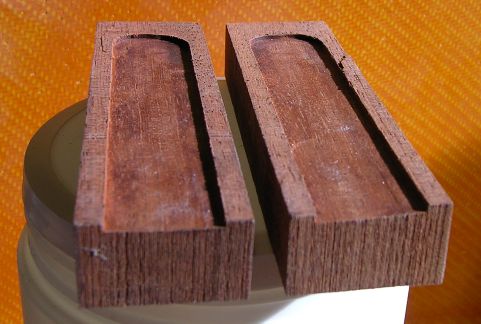 brake handle recesses: 2008-06-25
Nikon Coolpix 8400
Here are the recesses routed out of the halves of the brake-lever handle. Actually, this is the discarded first try. I forgot to photograph the good one before gluing the halves together. You can see the split near top right that appeared after routing the pockets. Making another pair of handle halves was easy at this stage, now that the router was set up correctly - I just had to bandsaw another pair of blocks to size.
---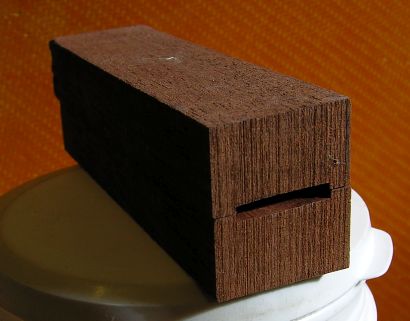 brake handle blanks: 2008-06-25
Nikon Coolpix 8400
Here are the blanks of the handle placed together to show how the routed pockets form a slot for the handle. The rough bandsawn finish will get tidied up later.
---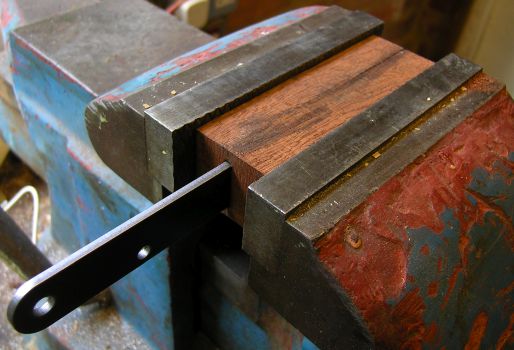 gluing brake handle: 2008-06-25
Nikon Coolpix 8400
The brake handle halves glued up and clamped in the vise to get the thinnest possible glue line. To ensure alignment, the fixing screws were fitted and tightened before the assembly went in the vise.
---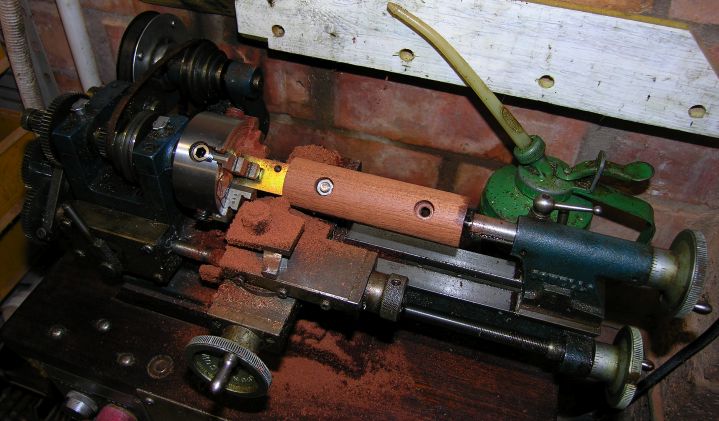 turning brake handle: 2008-06-26
Nikon Coolpix 8400
The original short operating lever supplied with the brake master cylinder was ideal to use for chucking the handle in the 4-jaw chuck of my Cowells 90 lathe. The outer end of the handle was centre-drilled lightly and carefully on the pillar drill - there wasn't enough room to do it on the lathe - and supported by a centre in the tailstock. It took quite a few passes to take the corners off the handle and render it cylindrical. To avoid overloading the tailstock centre I kept the cross-slide advance to a maximum of 0.25mm per pass. That's much more than this lathe could handle on a metal workpiece, but fine on mahogany with a sharp tool.
---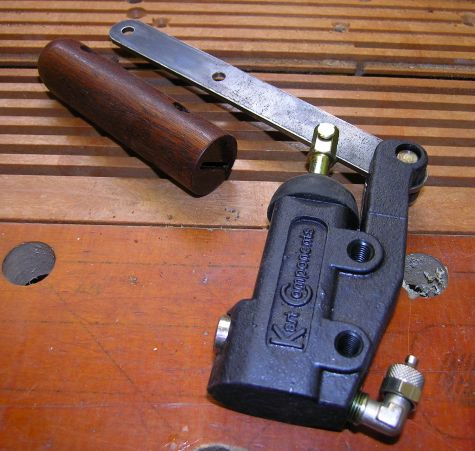 brake handle: 2008-06-28
Nikon Coolpix 8400
Here's the finished brake handle alongside the lever fitted to the master cylinder. It looks much darker than before because it's had a few coats of danish oil. The handle slides onto the lever very satisfyingly smoothly and firmly.
---
This page last updated 2013-10-16. I try to make this page as accessible as possible, by adhering to HTML 4 standards.
I welcome comments on this website. However, because of the amount of spam it attracts, I no longer post a direct e-mail address on any page. Instead, please click here to contact me. You will have to confirm that you are human before the message will be sent on to me.