| | | |
| --- | --- | --- |
| | Plastic bottles | |
Plastic bottles
2 pictures on this page - scroll down to see the rest
---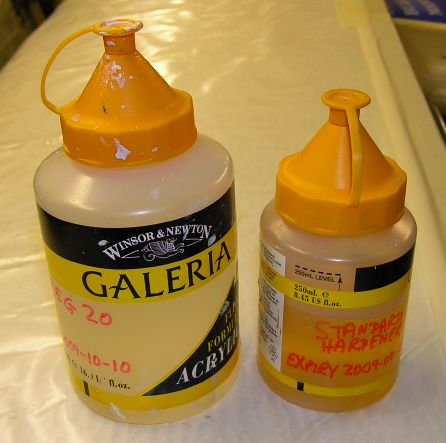 plastic bottles: 2008-01-15.
Nikon Coolpix 8400
These 2 plastic bottles discarded by Wilma had contained acrylic paint. I was about to put them in the plastic recycling box when I thought I might have a good use for them, as resin and hardener dispensers for the beam-balance mixing method. I had been using plastic pump dispensers that originally contained liquid hand wash, but one of those turned out to be unsuitable. It was made of PET and the hardener dissolved it over a long period of storage! Any replacement pump would need to have a stainless-steel ball in the valve (many are some kind of plastic now) as well as a stainless spring. Instead of searching for a suitable pump bottle, I decided to try using these. The bottles and their caps are polyethylene so will be OK.
---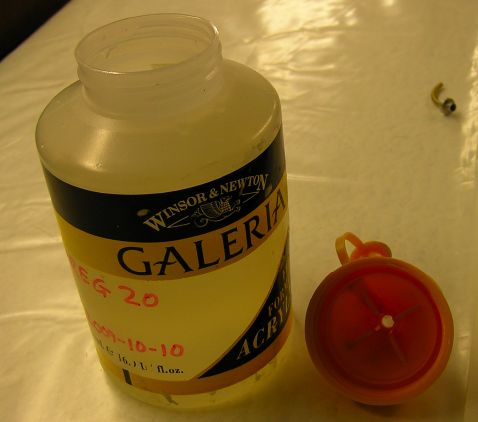 plastic bottle: 2008-01-15.
Nikon Coolpix 8400
This shows the wide mouth which allows easy filling of the bottle and the relatively small orifice in the cap which I hoped would minimise drips. In the background is one of the nozzles I made later because there was a problem with drips.
---
This page last updated 2013-10-16. I try to make this page as accessible as possible, by adhering to HTML 4 standards.
I welcome comments on this website. However, because of the amount of spam it attracts, I no longer post a direct e-mail address on any page. Instead, please click here to contact me. You will have to confirm that you are human before the message will be sent on to me.