| | | |
| --- | --- | --- |
| | 3D Mouldings label in bonding area | |
3D Mouldings label in bonding area
2 pictures on this page - scroll down to see the rest
---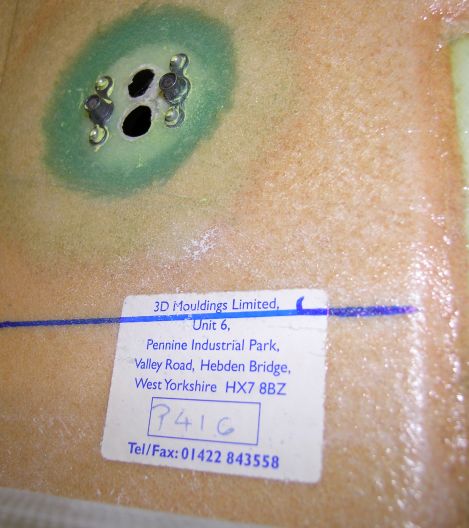 port wing label: 2008-01-30.
Nikon Coolpix 8400
I thought this port wing serial-number label was under the top layer of glass on the bottom skin, but when I came to abrade the area for the aileron closeout I found it was on the surface, so it had to come off.
---
Label removed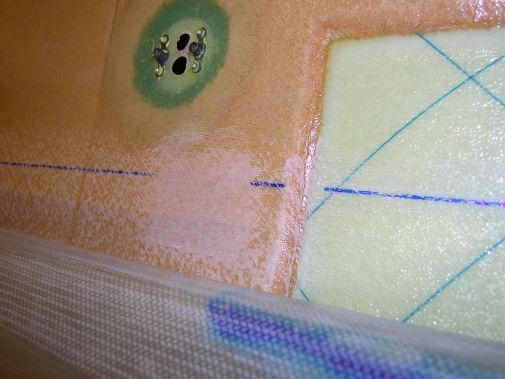 label removed: 2008-01-30.
Nikon Coolpix 8400
Here's the same area with all the residue of the label removed. The strong blue colour on the aileron closeout towards the bottom right-hand side of this picture is the edge of the BID on the hinge reinforcement inside the closeout. To make cutting them out easier and more accurate, I mark all my glass pieces for cutting with a felt-tip pen. The edge remains visible after the layup is completed, which is helpful to confirm that the layups extend over the required area.
---
This page last updated 2013-10-16. I try to make this page as accessible as possible, by adhering to HTML 4 standards.
I welcome comments on this website. However, because of the amount of spam it attracts, I no longer post a direct e-mail address on any page. Instead, please click here to contact me. You will have to confirm that you are human before the message will be sent on to me.