| | | |
| --- | --- | --- |
| | Access hole in cockpit module tunnel | |
Access hole in cockpit module tunnel
2 pictures on this page - scroll down to see the rest
---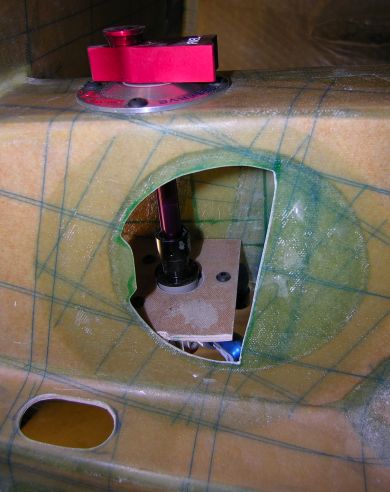 Tunnel access hole: 2009-02-09
Nikon Coolpix 8400
The initial shape of the hole cut in the starboard side of the cockpit module tunnel to provide access to the fuel valve mount within the tunnel. It's obvious after the event that it should have been cut less generously at the bottom so that the fuel valve mounting plate was not left dangling in mid-air. I guess I was thinking so much about avoiding the BID flange layup that supports the tunnel bulkhead (which is why it's D-shaped, not circular) that I forgot about other considerations. The picture in the manual shows a circular hole, but it must have been taken on a tri-gear, which does not have the tunnel bulkhead.
---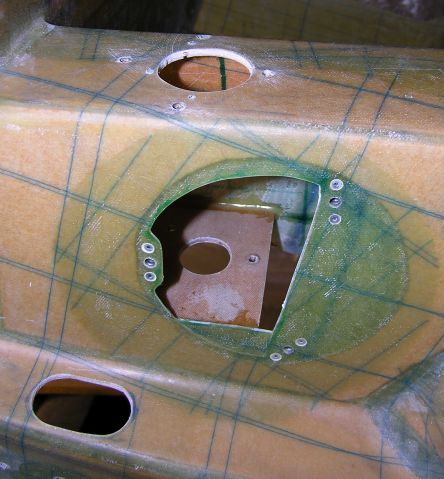 Finished tunnel access hole: 2009-02-13
Nikon Coolpix 8400
The tunnel access hole with the over-enthusiastic cutting repaired and the anchor nuts fitted. You can see on the far side that the 5-minute epoxy securing the fuel valve mounting plate has formed a nice fillet that will avoid the need for a flox corner under the BID flanges that will be applied next to provide proper support for the mounting plate.
---
This page last updated 2013-10-16. I try to make this page as accessible as possible, by adhering to HTML 4 standards.
I welcome comments on this website. However, because of the amount of spam it attracts, I no longer post a direct e-mail address on any page. Instead, please click here to contact me. You will have to confirm that you are human before the message will be sent on to me.