| | | |
| --- | --- | --- |
| | Instrument sub-panel | |
Instrument sub-panel
2 pictures on this page - scroll down to see the rest
---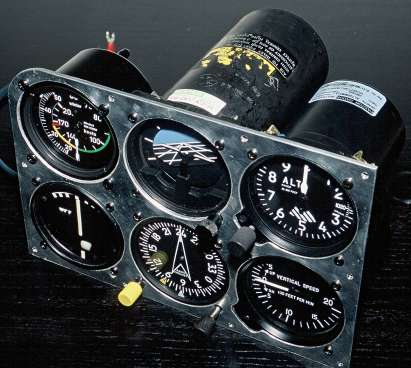 Instrument sub-panel assembled: 2003 09 13.
Canon AV-1, Fujichrome Velvia 50.
The first assembly of all six main instruments on the aluminium sub-panel. The gyros are all second-hand (but given a clean bill of health by Robin Morton) and the pressure instruments are new. Although I don't care for the aesthetics of the one-and-a-half turn ASI, I am persuaded that its better resolution at low airspeeds will help improve control on takeoff.
---
Instrument sub-panel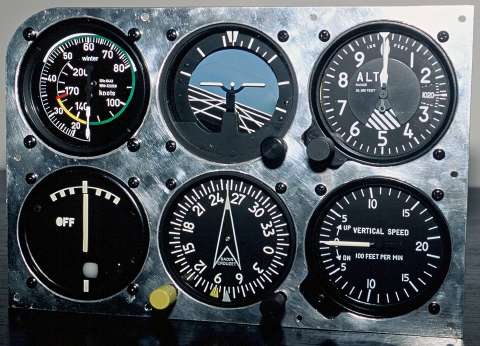 Instrument sub-panel assembled: 2003 09 13.
Canon AV-1, Fujichrome Velvia 50.
Front view of the sub-panel. I did the layout of the holes in CADintosh and centre-popped them through from a full-size printout taped on. I cut the holes in the aluminium plate with a holesaw. The mirror-finish on the front face of the aluminium sheet will get matted down before finishing black (anodized, I hope).
---
---
Instrument spacing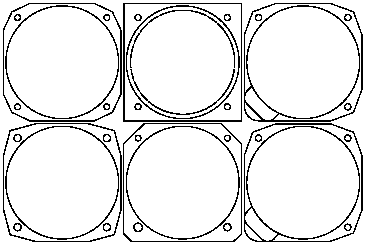 This is an export from the CADintosh file showing how closely the instruments are positioned. Although the instrument panel as supplied in the kit has adequate room for the six standard instruments, the extra space needed for the mountings around the sub-panel makes things quite tight.
Main panel with sub-panel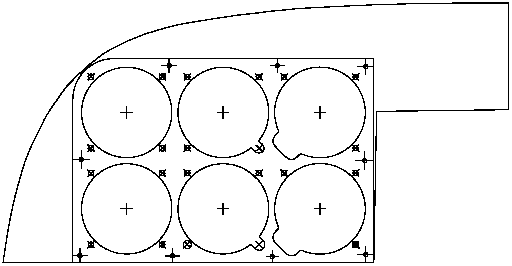 Another export from CADintosh, showing the aluminium sub-panel superimposed on the main glass-fibre panel supplied in the kit. This explains why the sub-panel is radiused at the top left-hand corner.
---
This page last updated 2013-10-16. I try to make this page as accessible as possible, by adhering to HTML 4 standards.
I welcome comments on this website. However, because of the amount of spam it attracts, I no longer post a direct e-mail address on any page. Instead, please click here to contact me. You will have to confirm that you are human before the message will be sent on to me.