| | | |
| --- | --- | --- |
| | Double marking of holes in cockpit module | |
Double marking of holes in cockpit module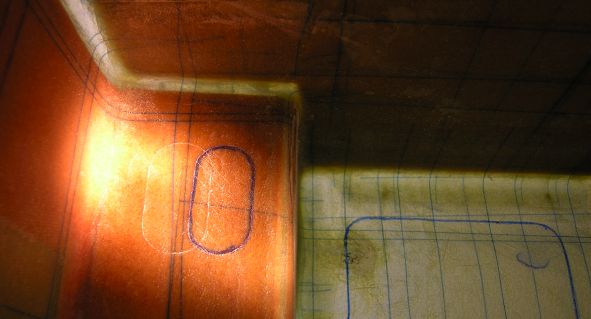 double marking of access holes: 2008-06-11
Nikon Coolpix 8400
Here are the double markings I found on the port side of the tunnel for the rudder pulley access hole. I've highlighted the correct one with a felt-tip pen, and shone a torch across at a low angle to pick out the other faint moulded line for the photograph.
---
This page last updated 2012-12-12. I try to make this page as accessible as possible, by adhering to HTML 4 standards.
I welcome comments on this website. However, because of the amount of spam it attracts, I no longer post a direct e-mail address on any page. Instead, please click here to contact me. You will have to confirm that you are human before the message will be sent on to me.