| | | |
| --- | --- | --- |
| | Tailplane pip pin recesses | |
Making recess on mandrel
3 pictures on this page - scroll down to see the rest
---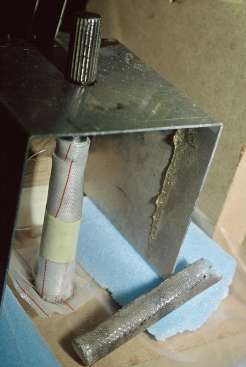 Making pip-pin recess: 2002 03 28.
Canon AV-1, Fujichrome Velvia 50.
The second pip-pin recess curing on the mandrel, with one I made earlier in front of it. The surrounding stuff is just a piece of scrap aluminium sheet arranged to keep the mandrel upright during cure, and thus maintain a flat bottom on the well.
---
Drain hole liner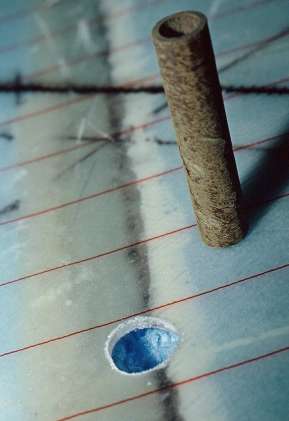 Drain hole and liner: 2002 03 28.
Canon AV-1, Fujichrome Velvia 50.
This is one of the pieces of paxolin tube I used to line the drain hole on the underside of the tailplane, standing adjacent to the hole it will line.
---
Pip-pin hole tools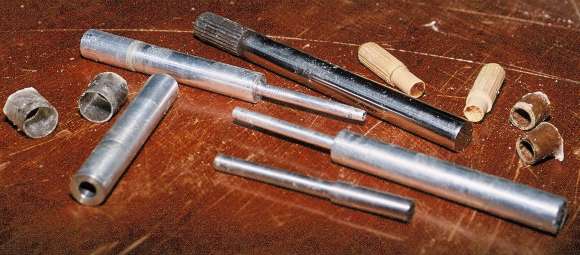 Tools and jigs for pip-pin holes: 2002 03 28.
Canon AV-1, Fujichrome Velvia 50.
For the pip-pin wells and drain holes, and drilling the torque tube, I made and used the surprising number of tools and jigs collected here. Also included at left are the offcuts from the wells on the upper surfaces, and at right those from the drain liners on the lower surface.
---
This page last updated 2013-10-16. I try to make this page as accessible as possible, by adhering to HTML 4 standards.
I welcome comments on this website. However, because of the amount of spam it attracts, I no longer post a direct e-mail address on any page. Instead, please click here to contact me. You will have to confirm that you are human before the message will be sent on to me.