| | | |
| --- | --- | --- |
| | Making fuel tank adaptors | |
Making fuel tank adaptors
2 pictures on this page - scroll down to see the rest
---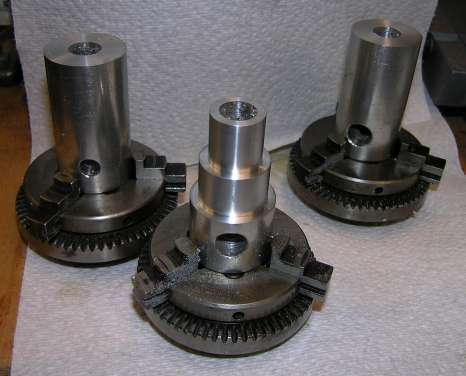 Making fuel tank adaptors: 2008-11-01
Nikon Coolpix 8400
The 3 fuel tank adaptors mounted in the 3 chucks for my Cowells lathe. The centre one has been machined to the outside profile, but has not been bored to the correct internal size. That will not be done until the outside machining has been done on the other two. This saves tool setting time. Why have I got 3 off 3-jaw chucks? I suffered from a bad batch of chuck keys which were always breaking teeth and my plea for help in the model engineering press was answered by a man who had needed to replace the headstock spindle in his lathe, and found that Cowells have now adopted a spindle nose thread of M14 x 1mm (his old one, and mine, were both M14 x 1.5mm). He'd had to buy a new chuck (tommy-bar rather than key-operated) and so his old chucks (he had a spare one which he normally kept with the jaws reversed) were no longer much use to him. To get his chuck key, I bought his chucks as well!
---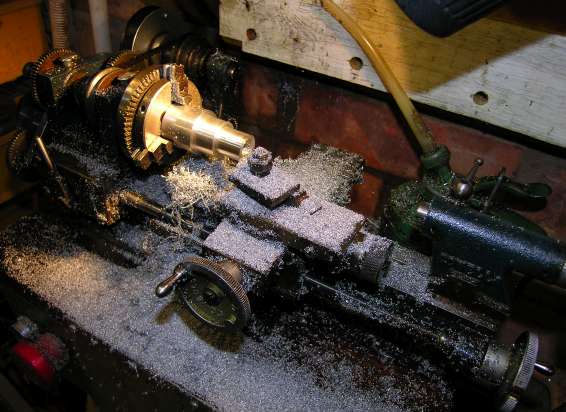 Making fuel tank adaptors: 2008-11-04
Nikon Coolpix 8400
Making a big pile of aluminium swarf all around the Cowells 90 lathe while turning the fuel tank adaptors to size.
---
This page last updated 2013-10-16. I try to make this page as accessible as possible, by adhering to HTML 4 standards.
I welcome comments on this website. However, because of the amount of spam it attracts, I no longer post a direct e-mail address on any page. Instead, please click here to contact me. You will have to confirm that you are human before the message will be sent on to me.