| | | |
| --- | --- | --- |
| | fuselage hard-points for wing pin sockets | |
fuselage hard-points for wing pin sockets
2 pictures on this page - scroll down to see the rest
---
fuselage hard points: 2014-11-06
Lumix DMC-FT1
Marking out the extent of the fuselage hard points where the port wing pin sockets will be fitted. The edges of the forward hard point are easy to locate by shining a light through from inside, but as part of the aft hard point is opposite the fuel tank the light is no good for that. Instead, I have very carefully used a power file to remove the gel-coat layer from the fuselage so that the edge of the hard-point can be seen through the underlying clear pre-preg. Around the hard-point outlines are marked the edges of the reinforcing layups. Also marked while I had the light handy is the seat harness hard-point just forward of the spar hole. The wing outline was traced while the wings were rigged and correct incidence set.
---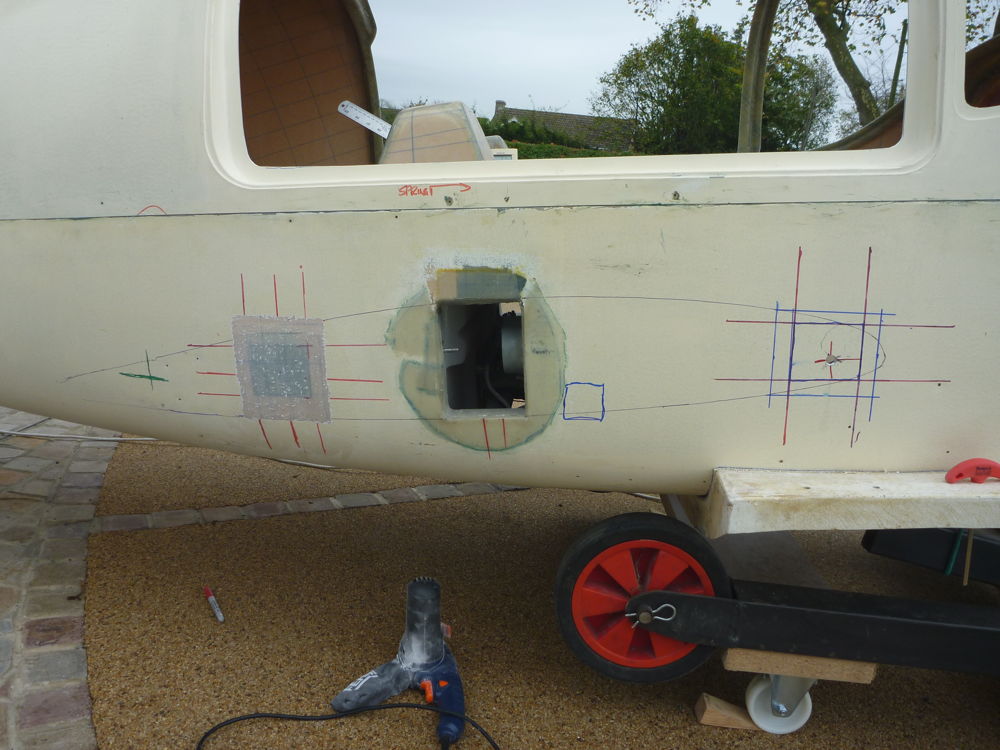 fuselage hard points: 2014-11-06
Lumix DMC-FT1
Hard points on the starboard side of the fuselage. On this side I have already removed the gel-coat from the entire area of the layup around the aft hard-point.
---
This page last updated 2014-12-02. I try to make this page as accessible as possible, by adhering to HTML 4 standards.
I welcome comments on this website. However, because of the amount of spam it attracts, I no longer post a direct e-mail address on any page. Instead, please click here to contact me. You will have to confirm that you are human before the message will be sent on to me.