| | | |
| --- | --- | --- |
| | Port flap aligned with aileron | |
Port flap aligned with aileron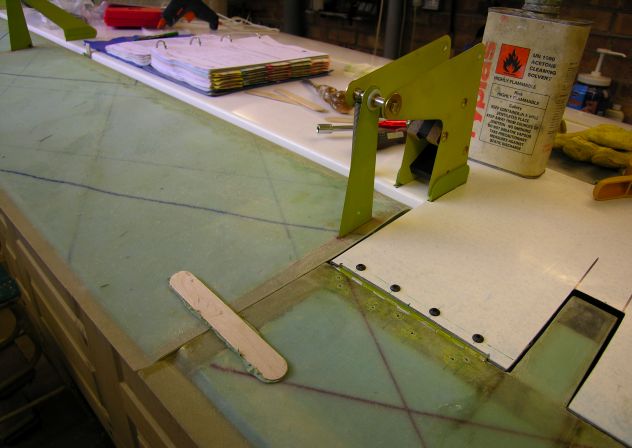 attaching port flap: 2008-02-26.
Nikon Coolpix 8400.
The port flap in position. The aileron has been clamped at neutral by its tip to the wing tip moulding (not visible). A mixing stick was coated with polyester filler paste and clamped to the flap-aileron junction while setting to maintain alignment between the two. Spacers 3mm thick were hot-melt glued to the short vertical part of the bottom wing skin. The outboard one is hidden here by the outer flap bracket FL3, but the centre one is visible close to FL2 near top right of the picture. The flap hangers W19 to W21 have been assembled to the flap brackets ready for drilling the attachment holes. Note the aileron is attached by temporary 10-32 button-head screws which are shorter than the specified ones, to avoid wear on the stiffnuts during the many assembly-disassembly operations required on the ailerons.
---
This page last updated 2012-12-12. I try to make this page as accessible as possible, by adhering to HTML 4 standards.
I welcome comments on this website. However, because of the amount of spam it attracts, I no longer post a direct e-mail address on any page. Instead, please click here to contact me. You will have to confirm that you are human before the message will be sent on to me.