| | | |
| --- | --- | --- |
| | Finger strainers and tank adaptors | |
Finger strainers and tank adaptors
3 pictures on this page - scroll down to see the rest
---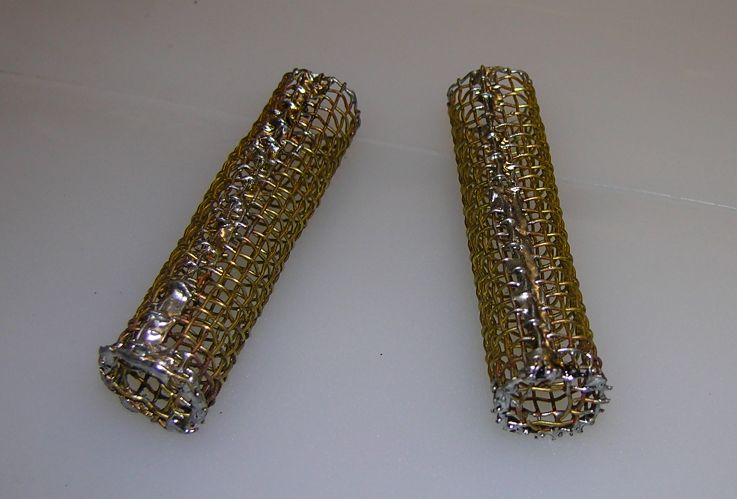 Finger strainers: 2008-12-30
Nikon Coolpix 8400
Finger strainers made from brass gauze. The edges were soldered first to keep them from unravelling, then each piece was rolled around a mandrel. The ends of the outer wrap were tucked into the inner wrap and soldered.
---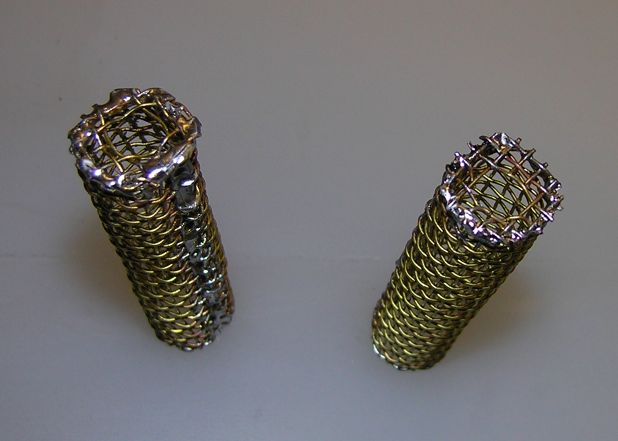 Finger strainer end caps: 2008-12-30
Nikon Coolpix 8400
A circle of brass gauze was soldered onto the end of each tube and then a hole made in it large enough to take the 1/4" OD aluminium tubing to feed the drain valves.
---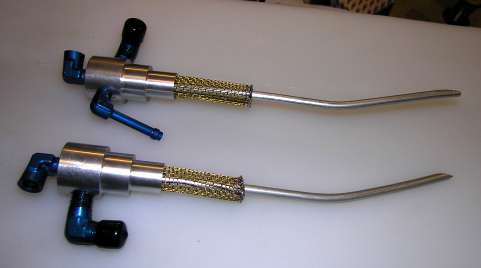 Fuel tank adaptors test assembled: 2008-12-30
Nikon Coolpix 8400
Here are the finger strainers, drain tubes, and fuel tank adaptors loosely assembled to check for fit. The AN914-1D fittings on the left-hand ends will have 1/8" NPT drain valves fitted, and they will draw through the aluminium tubes reaching to the bottom corners of each side of the tank (where water might be lurking). The main fuel feed to the engine is taken through the right-angle AN822-6D fittings at top and bottom in this picture, and they draw through the finger-strainers. Finally, the AN842-4D fitting on the lower side of the upper tank adaptor here is a hose nipple for the sight gauge tubing. The aluminium tubes will be fixed into the AN914-1D fittings, and the finger strainers to the tank adaptors, with Redux.
---
This page last updated 2013-10-16. I try to make this page as accessible as possible, by adhering to HTML 4 standards.
I welcome comments on this website. However, because of the amount of spam it attracts, I no longer post a direct e-mail address on any page. Instead, please click here to contact me. You will have to confirm that you are human before the message will be sent on to me.