| | | |
| --- | --- | --- |
| | Tubing clip bond failure | |
Tubing clip bond failure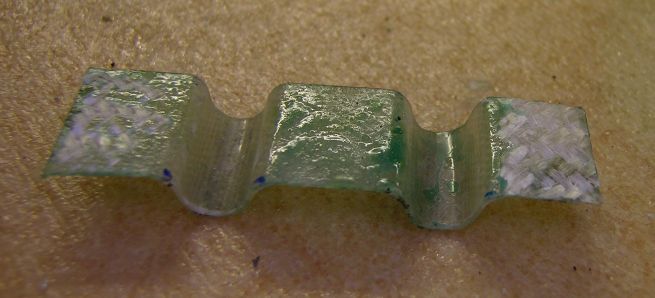 bond failure on tubing clip: 2008-02-15.
Nikon Coolpix 8400
This double clip for the pitot-static tubing was installed adjacent to the pitot-static mast, but because it was placed on a slightly uneven area, and there was too much moving about before it was weighed down in its final position, the Redux was spread too thinly and didn't bond well. Where it did stick, it held pretty well - the outer layer of epoxy has been peeled off the glass of the flanges as I removed it - but the central area shows no evidence of making contact with the skin.
---
This page last updated 2012-12-12. I try to make this page as accessible as possible, by adhering to HTML 4 standards.
I welcome comments on this website. However, because of the amount of spam it attracts, I no longer post a direct e-mail address on any page. Instead, please click here to contact me. You will have to confirm that you are human before the message will be sent on to me.