| | | |
| --- | --- | --- |
| | Boring crank arm hole | |
Boring crank arm hole
2 pictures on this page - scroll down to see the rest
---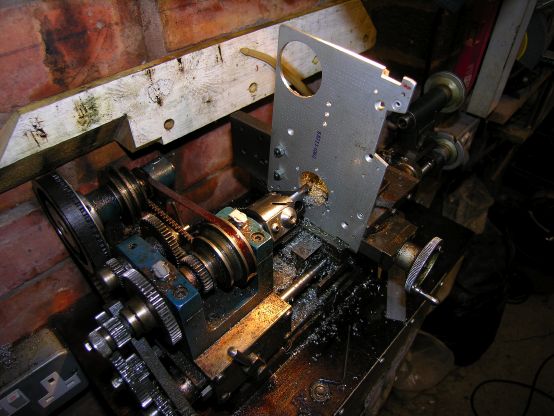 boring crank arm hole: 2008-07-22
Nikon Coolpix 8400
Boring out the hole in the wing-leveller crank arm to match CS03 and fit CS05. The lathe is my Cowells 90. The boring head was made by Arrand Engineering with a 14 x 1.5mm thread to fit my Cowells spindle nose. (I bought my Cowells lathe quite some time ago, when they were based in Norwich; since then the design has changed to a 14 x 1mm spindle nose thread, so one has to be careful when ordering spares or accessories.)
---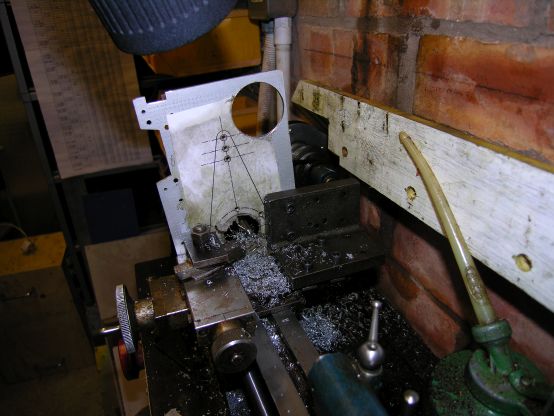 boring crank arm hole: 2008-07-22
Nikon Coolpix 8400
Boring out the hole in the wing-leveller crank arm to match CS03 and fit CS05. The paper pattern printed out from a drawing created in CADintosh is stuck to the aluminium plate with Evo-stik solvent-based contact adhesive, which does not cause the paper to wrinkle as a water-based glue might. The drawing provided sufficient accuracy for positioning the centre-pops to start a centre-drill in the various holes. The larger hole at top right was made as a test with a 38mm holesaw. It was neither a very nice finish nor very true to size, which is why I decided to bore the 32mm hole on the lathe rather than buying a 32mm holesaw.
---
This page last updated 2013-10-16. I try to make this page as accessible as possible, by adhering to HTML 4 standards.
I welcome comments on this website. However, because of the amount of spam it attracts, I no longer post a direct e-mail address on any page. Instead, please click here to contact me. You will have to confirm that you are human before the message will be sent on to me.