| | | |
| --- | --- | --- |
| | Adjusting height of wing sling | |
Adjusting height of wing sling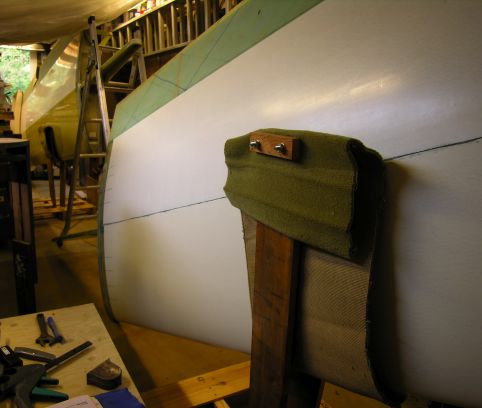 wing sling adjusting: 2008-09-30
Nikon Coolpix 8400
Adjusting the height of the wing slings to bring the spars level with the seatbacks in the cockpit module. At the left is the starboard wing supported at the tip by the rigging dolly and at the root by a stepladder under the spar, while the carpet in the sling is repositioned. In the foreground, the port wing rests on its root leading edge while awaiting its turn.
---
This page last updated 2012-12-12. I try to make this page as accessible as possible, by adhering to HTML 4 standards.
I welcome comments on this website. However, because of the amount of spam it attracts, I no longer post a direct e-mail address on any page. Instead, please click here to contact me. You will have to confirm that you are human before the message will be sent on to me.