| | | |
| --- | --- | --- |
| | fuel tank C adaptor fitted | |
fuel tank C adaptor fitted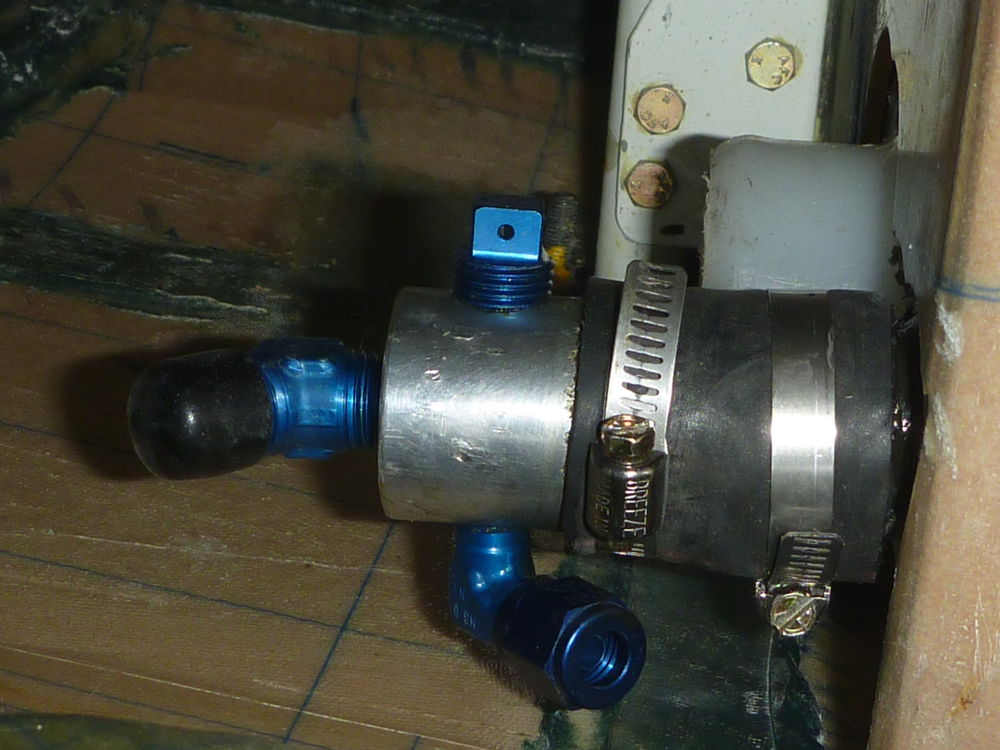 fuel tank C adaptor: 2016-03-18 Panasonic DMC-FT1
Looking down onto the C adaptor on the fuel tank top connexion, with the hardware and hose clamps fitted. The blanking plug on the inboard side (at top in this picture) is to close a hole that was made accidentally when making the A, B & C adaptors in sequence. The A & B adaptors needed holes each side, but I forgot that the C adaptor only needed one. On the outboard side (bottom of the picture) is where the 1/4" aluminium pipe fuel return feed from the engine will connect. The aft elbow fitting (at left here) is the main vent for the fuel tank and will connect to 3/8" aluminium pipe leading to the top of the F18 filler neck. Inside the tank it has a tube reaching to the top forward inside corner of the tank. The fuel filler boss is visible below the rubber connector.
---
This page last updated 2016-04-03. I try to make this page as accessible as possible, by adhering to HTML 4 standards.
I welcome comments on this website. However, because of the amount of spam it attracts, I no longer post a direct e-mail address on any page. Instead, please click here to contact me. You will have to confirm that you are human before the message will be sent on to me.