| | | |
| --- | --- | --- |
| | Martlesham Heath | |
Martlesham Heath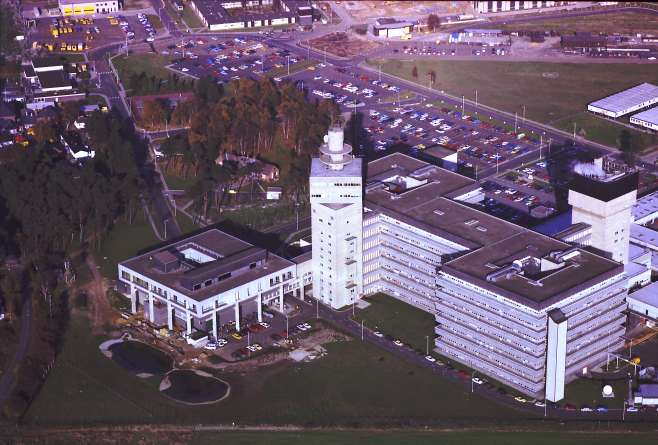 BT Labs, Martlesham Heath: 1983 11 14.
Mamiya RB67, 180mm f4.5 Sekor, Vericolor 160 Professional.
This was taken from Cessna 150 G-AZVR. My logbook shows an Instructor called Russell was driving while I took pictures, but I can't recall his first name. In the left foreground by the pond is the inverted pyramid of the admin block, then the radio tower with its top couple of stories set at 45 degrees to the rest. Between that and the steaming black-topped water tower on the far right is the main research block, looking in plan view like a cubist dog-bone. We heard that the pilots in the local USAF bases of Woodbridge and Bentwaters called the building the "aircraft carrier", presumably because the radio tower resembled a carrier island.
Near the top right of the picture is a fragment of the old main east-west runway, with a few cars and some small buildings on it. Prior to WWII, MH was of course an important centre for aircraft testing, and many famous types, both civil and military, underwent test flying here. Near the top left, the 2 objects with black tops and white sides are the canopies of the main entrance and exit gates, leading out onto the old A1093 Felixstowe to Woodbridge road (since replaced by a dual-carriageway further west). The runway crossed the old road and so local road traffic was held up while the runway was active! The other north-south runway was still in use by light aircraft when BT first came to the site, but soon yielded to the development of the new Martlesham Heath village.
---
This page last updated 2012-12-12. I try to make this page as accessible as possible, by adhering to HTML 4 standards.
I welcome comments on this website. However, because of the amount of spam it attracts, I no longer post a direct e-mail address on any page. Instead, please click here to contact me. You will have to confirm that you are human before the message will be sent on to me.