| | | |
| --- | --- | --- |
| | CS10 pivot markings | |
CS10 pivot markings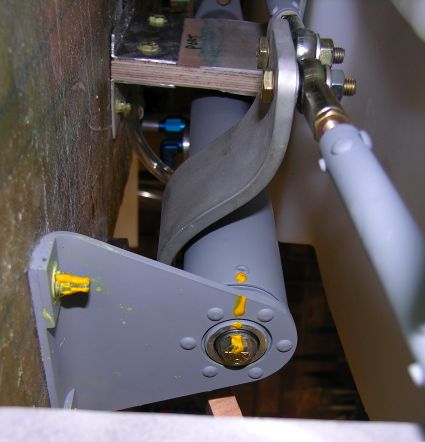 CS10 pivot marked for movement: 2009-05-05
Nikon Coolpix 8400
The port end of CS10 with the pivot bolt and adjacent parts marked with inspectors lacquer so that any slackening of the bolt can be detected. The stiffnuts securing the CS09 flange have also been marked. Note that the aileron pushrod ball-ends are still fitted with plain nuts at this stage, as I don't know how many times I will have to dismantle them again.
---
This page last updated 2012-12-12. I try to make this page as accessible as possible, by adhering to HTML 4 standards.
I welcome comments on this website. However, because of the amount of spam it attracts, I no longer post a direct e-mail address on any page. Instead, please click here to contact me. You will have to confirm that you are human before the message will be sent on to me.