| | | |
| --- | --- | --- |
| | Dalriada photos: Extra-curricular (Neg 250) | |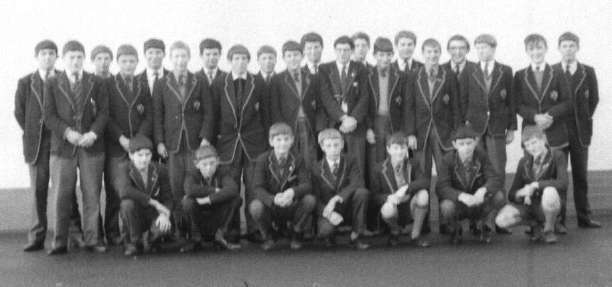 Neg 250

Kodak 66

The Romans - a selection of the boys associated with the Julius Caesar production, some with authentic haircuts. Taken by someone else, who didn't get close enough (so this is only a small central section of the negative). Despite this, maybe you can decipher a few faces - some of the following identifications are tentative. Standing, L to R: 1, Chris Dyer; 2, Archie McKeeman; 6, Roger Cromey; 7, Sam Harris; 8, Rowland Carson (me); 9, Malcolm Elliot; 12, William Kyle; 17, Roger McMullan; 19, Aldwyn Calderwood. Squatting, L to R: 1, George Harris; 4, Elmer Andrews; 6, David Blair. Note the affectation of my blazer buttoned only on the bottom button, and the black crew-neck sweater. The latter was a variation on the school uniform allowed during the production. I think it was really only the stage team who were entitled to this relaxation, so as a cast member I was pushing my luck, but I thought it looked so cool.

If you can add to the information here, please let me know.
---
This page last updated 2013-03-30. I try to make this page as accessible as possible, by adhering to HTML 4 standards.
I welcome comments on this website. However, because of the amount of spam it attracts, I no longer post a direct e-mail address on any page. Instead, please click here to contact me. You will have to confirm that you are human before the message will be sent on to me.