Wilma's wheaten soda bread recipe
2 cups of wholewheat flour
2 cups of plain flour
1 teaspoon baking soda
½ teaspoon salt
1 carton (284ml, ½ pint) of buttermilk
¾ of same carton of water
8" (200mm) heavy casserole pot with lid (eg Le Creuset)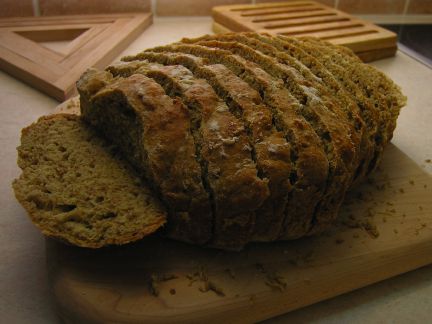 Preheat (fan) oven to 180°C (360°F)
Mix all the dry ingredients together. Add the buttermilk and water, and mix to a soft dough. Put onto a floured surface and knead lightly 3 times. Put into the greased and floured casserole. Cut a cross in the top and sprinkle lightly with flour. Put on the lid, bake at 180°C (360°F) for 25 minutes, then take the lid off and reduce heat to 150°C (300°F) for a further 20 minutes. Take out of the oven and allow to cool a bit. Turn onto a wire rack and wrap in a clean, slightly damp tea towel to keep the crust from getting too hard. When cool, slice and eat immediately (or put the sliced loaf in a freezer bag and freeze).
If you can't get buttermilk, a reasonable alternative is plain yoghurt. It may need to be thinned down slightly with water to a pouring consistency.
Wilma says: I'm from Ulster, so I know what soda bread should be like. The most common type of soda bread in the north of Ireland is the white soda farl, typically about an inch or two thick, cooked on a griddle (heavy flat pan). The temperature of the griddle can be hard to judge, and it's difficult to give instructions that will suit all types of hobs. Some of the recipes I've tried in the past have not been satisfactory but this one brings success every time. It owes much to the southern Irish tradition of making soda bread in a large covered pot (bastible), and gives reliable results through accurate time and temperature control.
---
---
---
Return to Wilma's memorial page
Last updated 2013-03-12. To make these pages as accessible as possible, I try to adhere to HTML 4.0 standards.
I welcome comments on this website. However, because of the amount of spam it attracts, I no longer post a direct e-mail address on this page. Instead, please click here to contact me. You will have to confirm that you are a human (not a spam-bot) before the message will be sent on to me.